Barbies On Sale From $11 @ Amazon.ca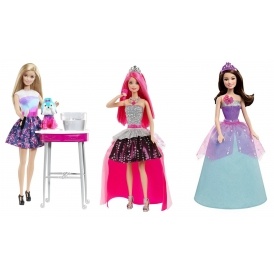 Barbies have been around for ages, and they are still beloved my many girls, even today. Amazon has a fabulous selection of barbies on sale up to 40% off at the moment, with dolls starting at $11.
The best deal in this sale is undoubtedly the Barbie Color me Cute Doll. At 55% off, this doll was originally $24.99 and is now $11.26. The best feature on this doll is the little dog it comes with. You can brush the dog's hair with water and it changes color! Children love playing hairdresser and dogs, combine both and you get a great toy.
With Easter coming up, a barbie might be a good alternative to the usual chocolate and candy. As a parent, it's difficult to choose an appropriate gift for minor holidays. It isn't Christmas after all, but most of us still want to celebrate with a small gift to our kids. An $11 barbie seems totally appropriate for the occasion.

Shipping is free on Amazon if you purchase more than $25. Some of these dolls are over that price, so your shipping will be free. Shipping is also free if you have Amazon Prime, which is totally worth getting by the way. You get access to early deals and get 3-day shipping which saves the day for last minute gifts!
(Expiry: Unknown)



(Expiry: Unknown)