Barbie Dreamtopia Endless Hair Princess 17" Doll $21.74 @ Amazon.ca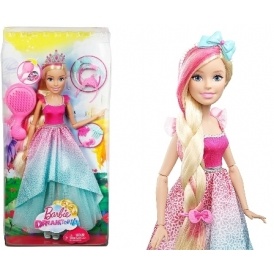 The Barbie Dreamtopia Endless Hair Princess 17" Doll is currently on sale at Amazon Canada for a stellar price! Grab the Barbie for $23.48 down from $39.99 (41% savings) while supplies last.
This Barbie Doll has quickly made her way over the Movers and Shakers list on Amazon.ca, so I don't imagine the sale price will last very long.
The extra-tall Barbie Princess Doll has super long hair to match. Accessories for endless hair styles are includes, and there is even a brush container included to store all of her accessories. The kids are going to love opening this up on Christmas morning.
This same Barbie goes for $39.99 at Toys R Us, so I would definitely snag this if you have started stocking up on Christmas gifts.
Amazon.ca throws in free shipping on orders over $35.
If you like this, you may like these...