Barbie Dreamhorse Doll And Horse $89.92 @ Amazon Canada (Expired)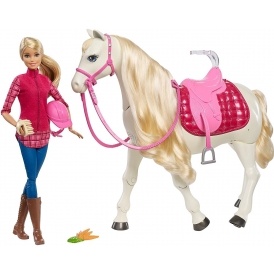 This one has quickly made it to the top 10 holiday toy lists across Canada. The Barbie Dreamhorse Doll and Horse is currently on sale at Amazon.ca for $89.92 down from $139.99.
I would have done anything for this toy as a kid. The Barbie Dreamhorse Doll and Horse is a great way for your kiddos to experience the fun of horseback riding with Barbie. This is her most interactive horse yet.
The beautiful white steed responds to actions and has more than 30 realistic reactions and sounds. She can walk forward, turn 360 degrees, neigh and more. Ask her a question and she will nod yes or no. She even comes with a bunch of carrots!
Get free shipping on orders over $35 at Amazon.ca.