Balance Bikes Canada: Save on Kids Balance Bikes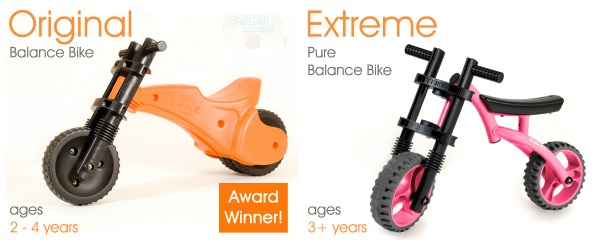 Balance Bikes Canada sells pedal-less bikes for children to improve their sense of balance and bring them one step closer to riding a bike. This is a different method of learning to ride a bike than training wheels, whereas bikes with training wheels focus on learning steering and pedaling, balance bikes focus instead on balance and steering. Balance Bikes Canada has a large array of balance bikes and many of them are on sale.
If you are looking for an inexpensive balance bike, there are several options. You can get the YBIKE Extreme - Orange that was $109, now on sale for $99. It also comes in Pink. In the sale price range is the Runners - Speeders Pink which was $109 and is now $99.99. It also comes in Red or SkyBlue. Both of these bikes are for ages 3 to about 5 depending on the size of your child.
For younger children, you can pick up the slightly cheaper YBIKE Original - Green that was $99 and is now $89. It is recommended for 2 to 4 year old children to get an early start. This bike has a couple great reviews from happy parents.
Standard shipping to me was $15, but it could be less if you live closer. You have the choice of picking up your bike in Mississauga (for those of you in that area) at no extra cost.
(Expiry: unknown)