Babies R Us Canada: $90 Off Joovy Caboose Ultralight Stroller (Now $210 | Was $300)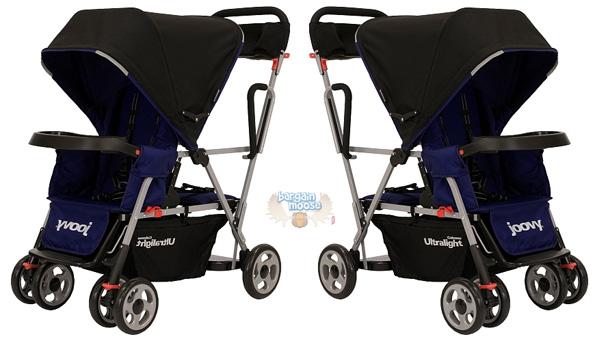 Babies R Us  has a great deal right now on the Joovy Caboose ultralight stroller. Get it for just $209.97 instead of its regular price of $299.99. That's a $90 discount, which comes up to 30% off!
I have to admit that when I was shopping for a stroller a couple of months ago, I was completely lost in the sea of what seemed like endless stroller possibilities. I was conflicted as to whether I should spend more on the sporty strollers (with 3 wheels), if I needed more basket space or if the weight even made any difference. At the time, I prioritized a large basket and manoeuvrability over shock absorbent wheels and bought the Graco Click Connect travel system, but in hindsight, I should have probably gone with the better wheels because of how much I have been going out for walks lately in an effort to shed the weight. I definitely love my stroller but at the same time, I have yet to use the basket to its full capacity and I cringe every time I hit a sidewalk line. Plus, weighing at a whopping 45.5lbs, it has been quite the work-out to lug it up and down stairs.
The Joovy, on the other hand, weighs just 21lbs and is designed to be super manoeuvrable as it features large sealed ball bearing wheels designed to offer a smooth ride. Here's what one reviewer had to say about it:
Stroller drives really nice. Wheels are very smooth (drive/ride). Collapses easily, but need both hands to collapse and load. Excellent front seat; sits baby up nice and straight (no slouching). Excellent space in back for older child to sit/stand.
It can also sit up to two children with up to 45lbs in the front and rear seats. The great part about this stroller is that the older child can choose to either sit, stand or walk.
Deal-wise, it's definitely a good one as Amazon has it for as much as $477.40 and Sears is offering it at its regular price of $299.99.
Although it depends on your location, shipping is approximately $30 for this stroller but with the automatic $10 shipping discount that is applied at checkout, it will come down to just $20.
(Expiry: 12th June 2014)