Animal Split Swim Rings Now $6 @ Amazon.ca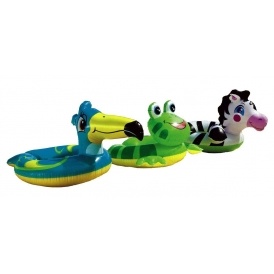 I can't wait to splash in the pool or at the beach with my little one this summer! If you often find yourself in a body of water, then you may want to grab a few of these Intex Animal Split Swim Rings for your kiddos. They are available for 21% off today—while the discount may sound small, the price sits at just $5.51. Amazon Prime members will even get free shipping.
These are not your dollar-store quality swim rings. They are made with an 8-gauge vinyl and are suited for kids between the ages of 3 and 6. While I don't see a suggested weight that these floaties can support, one customer review says that even adults have used the floating toy.
You cannot choose which cute floating character you receive, but all four of the options are pretty cute and gender neutral. You will get one of the four options which are a zebra, frog, hippo and toucan-looking bird. I think the kids will have a blast with these during your beach days this summer—if you have a pool then maybe you should buy a few for the guests that come over too. I hope we get the zebra, he is my favourite.
If you are not an Amazon Prime member, you will need to spend $25 or more to have your shipping and handling included.
(Expiry: Unknown)