Amazon.ca: Mega Bloks First Builders 123 Learning Train Was $22 | Now $14 (EXPIRED)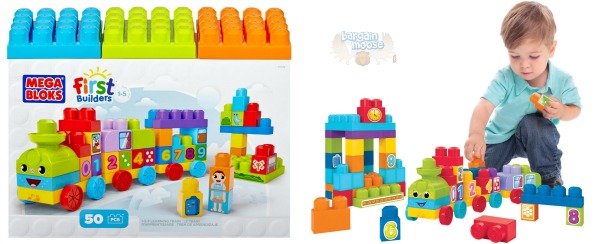 Building blocks are one of the greatest toys in the world. The blocks teach kids better fine motor skills and how to use their imagination. This Mega Bloks First Builders 123 Learning Train is on sale from $22.39 down to $13.97. Receive free shipping on orders of $25 or more.
I could not find this set many other places in Canada, but good ol' Walmart caries it. The exact same building set is currently $21.98 at Walmart. While you would receive free shipping at Walmart, I am not sure that is worth paying an extra $7. Just pick up two sets at Amazon Canada or add another item to your cart to qualify for free shipping.
This is a fun little toy designed for children ages one to five as the building blocks go together and come apart easily. The set includes 44 building blocks, three wheelbases, three building plates, and a sticker sheet. The building blocks come together to make a train. This train introduces kids to the numbers 0 to 9. it is a great way to teach young children through play. The stickers can be placed on the blocks (best with the help of an adult) for more fun.
These are compatible with all Mega Bloks First Builders sets so you can expand your child's current collection. As your child grows older, they will naturally start to mix and match pieces from different sets.
Now, if you are having trouble fleshing out your cart to receive free shipping - I have some suggestions. This set of LEGO Classic Bricks is on sale from $19.99 down to $15.96. Enjoy 221 pieces of different shaped and different coloured LEGO in this set. It is designed for older children: ages four and up. Toys R US has the same box of LEGO for $19.99, and Walmart Canada has the same set for $19.86.
This set of LEGO Movie MetalBeard's Duel - 70807 is in the honourable mention section. Originally $44.99, the set is on sale for $35.97. Now, Toys R Us has the same sale price as Amazon Canada right now but Walmart still has the set priced at $44.86.
Of course, you might already have a couple things you want to buy that you can add to this train toy set in order to receive free shipping. I think $14 is a good deal for a 50-piece of Mega Bloks.
Limited stock is available.
(Expiry: Unknown)