75% Off Fashion Angels Stylist Sets were $10 | Now $2.50 @ Chapters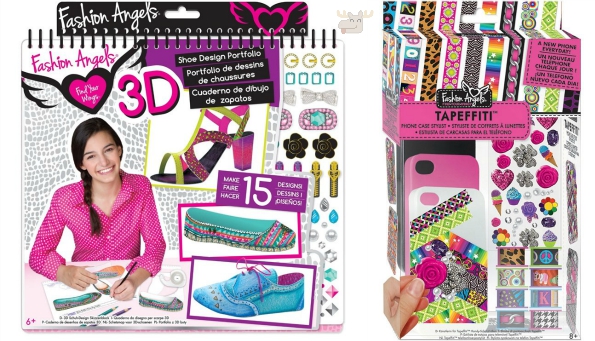 If you are looking for innovative stocking stuffers, inexpensive sleep-over projects, or just small 'just because' gifts, then check out the Fashion Angels Stylist Sets on sale from $9.95 down to $2.50. Choose from the Tapefiti Phone Case Stylist and the Trendfolio 3D Shoe Boutique.
Aren't these the perfect little activity packs for a girl's sleepover? I think they are just darling. Each pack comes with all the supplies your child needs to explore their creative side. I will walk you through each kit below:
Tapefiti Phone Case Stylist
This set comes with two iPhone 5 cases and one 4/4S case with all the stickers and take you need to decorate the cases with. You will receive eight Tapeffiti tape rolls as well as puffy stickers for decorating. This fun little kit is sure to keep your kids entertained for hours and then you can wear their creation on your iPhone (if you own one).
Trendfolio 3D Shoe Boutique
This set lets you create 15 3D paper shoes and decorate them accordingly. You get to design and create your own shoes. The set comes with pre-printed shoe patterns and then you add on your own design elements and colour them in. Then, carefully cut the shoe out and follow the instructions for assembling your 3D shoes. As this kit requires cutting, it may be best for older children or with the help of a parent.
There are a few other sets on sale, but none quite as discounted as these two. I did want to mention the Mod Collage Jewellery Display on sale from $31.95 down to $9.50. It is 70% off and lets your child decorate their own jewellery stand. This is super cool and still a great discount.
Do note that there is a minimum purchase of two kits, so they might be a good idea if you have two girls or are getting party supplies for a birthday, sleepover, or more. Receive free shipping on orders of $25 or more at Chapters Indigo Canada now.
(Expiry: Unknown)