75% Off Elf On The Shelf Hide and Seek Game Was $20 | Now $5 @ Chapters *HOT*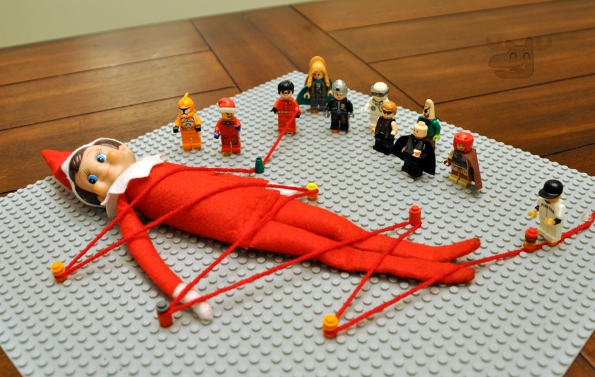 **Bump: This Elf now qualifies for FREE SHIPPING - no minimum!**
Chapters Canada has a very hot deal on this popular Christmas toy for kids. The Elf on the Shelf Hide and Seek Game was $19.95 but is not on sale for just $5! This game is based on the best-selling Elf on the Shelf book.
The game is simple. Someone hides the Elf (usually an adult) and then everyone else tries to find him. The Elf plays music and that is the only clue your children will have to find the Elf. The first one to find the elf gets a gift put in their sleigh. Then, the first player to get three gifts in their sleigh wins the game!
Now, you could always modify what the winner receives when they get three gifts in their sleigh. I asked my colleague Brooke what she thought of this toy, and she said:
That is pretty cool! That would be a great way to spend some quality family time leading up to Christmas. Could add a little twist, the winner gets to open a gift early or enjoy a Christmas chocolate.
She also suggests that the child who wins could pick the Christmas movie that the family watches that night. I think that is an excellent idea as well. Can you think of any other ways you could modify this game? I am thinking about letting the winner choose what kind of cookies to bake.
This is SUCH a fantastic price for this toy. The same toy costs $19.99 at Amazon Canada right now (direct from Amazon). You will not want to keep it as a Christmas present, but rather give it as an early Christmas present so you can have fun with your child leading up to Christmas. Perhaps make it an advent calendar gift.
Receive free shipping on orders of $25 or more. I encourage you to explore the rest of the sale section for other great deals.
Hey Moosers, does your family have an Elf on the Shelf? How do your kids respond to the Elf watching them?
(Expiry: unknown)