66% Off SimpleSweet Music Boxes Were $60 | Now $20 @ Chapters Indigo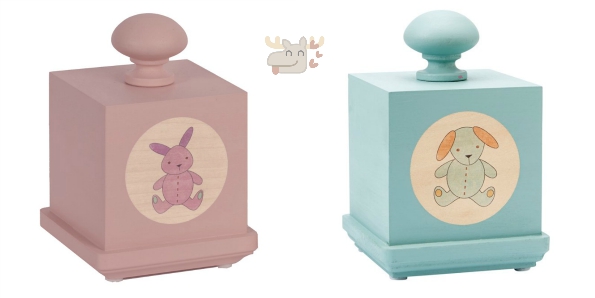 Chapters Indigo Canada has discounted the beautiful SimpleSweet Music Boxes in blue and in pink. Originally $59.50, each music box is now only $20. Receive free shipping on orders of $25 or more.
This is an adorable little wooden music box decorated with a vintage, stuffed toy. The blue box features a puppy and the pink box features a rabbit. Both the blue and the pink music boxes will play the classic melody of Twinkle, Twinkle Little Star to lull your little one to sleep. The music box measures 4" by 4" x 6" and will fit easily on a side table beside your child's crib or bed.
I honestly think that these are the cutest things ever. I still have several things from my childhood including my two most precious items: the bear I was given by my grandmother when I was born and my unicorn music box that I can remember having since I was three. We are talking a 26-year old rotating white unicorn that still plays music to this day! It is one of my favourite keepsakes and I am amazed it still works.
Then again, music boxes have been around for ages and they usually are quite durable. I inherited a music box from my great-grandmother that is roughly 80 to 90 years old. IT STILL WORKS. I am not too fond of the aesthetic, but little music boxes like these tend to last forever.
I adore these little music boxes because they are so simplistic and yet they look so cute. The little vintage rabbit toy on the pink box is really pretty. I prefer the pink box as it has a bunny and I really like bunnies, but the blue box with the puppy is really cute too.
These would make amazing gifts for someone soon to have a child. You could also buy your own child one of these lovely little music boxes. They are perfect for all young children and make wonderful keepsakes for older children as well.
Shipping is free on $25 or more. You may wish to find a small filler item.
(Expiry: Unknown)