46% Off Joanne's Mansion Dollhouse was $130 now $70 @ BedBathandBeyond.ca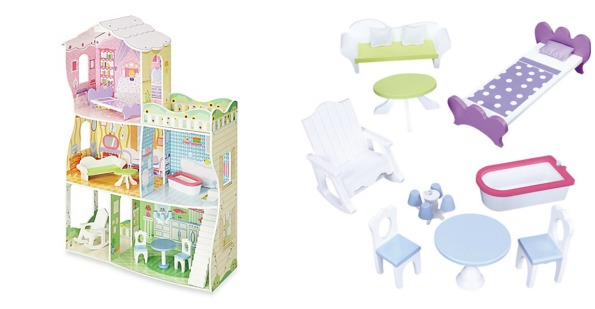 I can't help but think how lucky a little girl would be to receive a toy like this dollhouse, pictured above. I know I would have been over the moon as a child to receive this Joanne's Mansion Dollhouse. It is presently 46% off at Bed, Bath & Beyond Canada. Its original price was $129.99 and it's now reduced to $69.99. You can also receive free shipping on orders over $99 at Bed, Bath & Beyond.

I think "mini" models are the ultimate pretend toy: mini kitchens, mini houses, mini workshops etc. It allows your kids to imitate day-to-day adult life. When toys like this Dollhouse have realistic details, it takes the pretend role-play time to a whole other level. As a child, I know my sister had a paper dollhouse and it was her favorite toy. She was a small girl and was obsessed with everything miniature. I know a lot of kids are like that because they feel like the objects are made just for them, which they are!
This dollhouse resembles the Kidkraft dollhouses. While this one has a much different design, they are essentially the same concept. Since I couldn't find the any other website that sold this Joanna's Mansion Dollhouse, I thought I'd price compare with some of the Kidkraft models. It seems that the Kidkraft models rarely go down to this price. I found a couple of options close to this price, but they didn't accommodate 11 inch dolls like this one does. I love my Kidkraft toys, but this dollhouse seems like a better deal at the moment!
I love the colors in this dollhouse. Honestly, they resemble my grandmother's home. The whole dollhouse is pastel with soft designs, which gives it a bit of a dreamy feel.
If you like this model, but would like to check out another style, Bed, Bath & Beyond also has a Garden Dollhouse on sale for the exact same price of $70. It is essentially the exact same concept, with brighter colors and a different style. This one is more modern than the Joanne's Mansion. Every child has their own unique personality to match one of theses dollhouses but any one of these two choices would make any child very happy!
Like I mentioned above, shipping is free on orders over $99. If you order doesn't meet that minimum, shipping will cost you $7.99. If your order is available in a local Bed, Bath & Beyond store, you can choose the option to reserve it online for free, and to pay for it when you pick it up in store.
(Expiry: Unknown)