4 Frugal DOs and DO nots for your Child's Birthday Party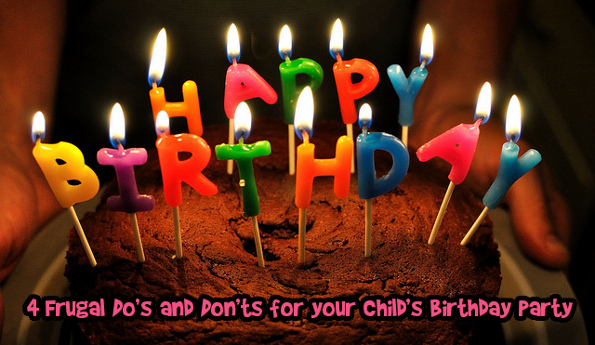 The average cost of a child's birthday party these days has skyrocketed from when I grew up as a kid, where a trip to McDonald's for a birthday party was considered a HUGE deal.  These days, parents seem to be trying to one-up each other in terms of children's birthday party extravagance.  Instead of McDonald's (as a kid I considered McDonald's extravagant and fun), young kids these days are going to bowling alley parties, amusement park parties, and even parties at the movies with a private room (with pizza, drinks, popcorn).
Hosting one of these extravagant parties for your children can be a real budget buster.  Some birthday party companies across Canada charge upwards of $145 to $500 for 2-3 hours of entertainment for your child's birthday party (Globe and Mail).
Trying not to get sucked into that competition with other parents and those feelings of guilt and expectation is a good thing, though I'm sure it's easier said than done.
Here are a few Do's and Don'ts to consider when planning your child's next birthday parties.
1. Don't Go All Out To Start Off With
The later you can delay the feeling of keeping up with the Jones' the better.  As a toddler, your child might not have many friends, especially if they don't go to daycare.  Don't feel the need to invite friends that your toddler doesn't even know.  Your toddler likely won't be able to remember this birthday party anyway.
Keeping it small and intimate may be a good idea until your child goes into elementary school and has friends that they start to care about or need to "impress".
If your child's birthday is in the summer months, this is even better.  Have the party in your backyard or at a park.   If you can and don't mind the cleanup, have it at your home.
2. Do It Yourself (if you have time)
The cake is usually the centerpiece and focus of any child's birthday party.  Instead of spending upwards of $50 for a themed cake, you can create your own cake, or better yet, bake cupcakes.  Using a tiered cupcake holder can help make your creation look even better.
Children enjoy having their own little cupcakes to call their own, and if you can personalize the cupcakes with the guests names on them, even better!
Many parents decide to go "all out" and spend upwards of $200+ on birthday parties because they would rather not have children in their living room and have to deal with the clean up, but sometimes you have to stop and think about whether you would rather clean up for 1-2 hours or spend $200+ for 2-3 hours…!
3. Do Start off with a Budget
Do start off with a budget, otherwise it can really spiral out of control.  Consider how many children to invite.  Consider goodie bags (these can be made very frugally, especially if you stop off at the dollar store for these supplies), decorations, and food.   Helium balloons can be costly but your local dollar store should have better prices than the specialty balloon shop.  If you are planning to invite the entire class, it would be a VERY good idea to keep the budget under control and to budget for a more frugally themed birthday party.  Decide with your child whom they really want to invite.
Sometimes we want to give the world to our children and make sure their needs (or what we think are their needs) are met.  However, sometimes the need and lesson of not always getting what they want, learning to live frugally and not frivolously can be an even bigger lesson than we think.
4. Do Make Food an Activity and Not a Meal
If you're strapped for time to individually ice the names of the guests on the cupcakes, why not use that time for children to ice their own names on the cupcakes?
Instead of serving beautifully created sundae ice cream dishes, why not let the children make their own sundaes and decorate them?
You could create a cooking class of making individual pizzas or other fun food items.  Many children might not be exposed to that kind of creativity and fun at home and this gives an opportunity for learning something new.
Birthday parties can be an expensive event and can really put a huge dent in your family budget, especially as they get more and more extravagant.  Although celebrating your child's birthday is very important, sometimes I wonder whether the fancy event is really for the child or is it more for the parent!
Bargainmoosers, do you have any Do's and Don'ts when planning a child's birthday party?
(photo credit: spool32)