2014 Holiday Sale Now On @ Steam Powered (Up To 90% Off LOADS Of Games)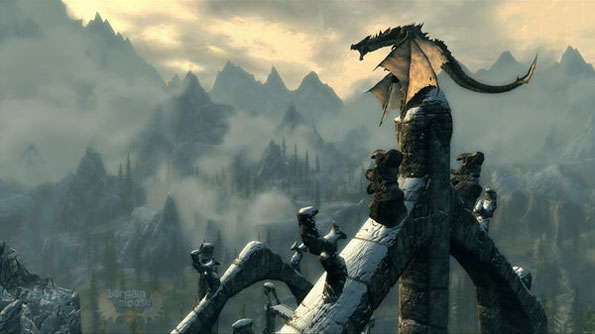 Calling all gamers: you will be excited to know that Steam's annual Holiday Sale is now live and until the second day of the new year, you can save up to 90% off (if not more) plenty of games.
New deals are made available every day until 1pm EST the next day and there are also plenty of flash sales to take advantage of as well.
Today, for instance, you can get Skyrim (featured in the image above) for just $5.49 instead of its regular price of $21.99. Considering the immense popularity of this game, this is an amazing discount and one you shouldn't miss if you have been meaning to give this epic game a try.
Make sure to read the reviews as they are absolutely hilarious and show just how addicting and awesome this game truly is. Here's one such review:
If I had to choose between this game, and my girlfriend. I'd pick this game.
EDIT: I'm single now.
If you want something else to keep you occupied for hours on end, then Portal 2 is 80% off. Right now, you can get it for just $4.39 (reg. $21.99), although if you haven't played the first one, then you can also get a Portal 1 & 2 bundle for just $5.59 (reg. $27.99). It's essentially a puzzle game that traps you in various situations. You have to get out of intricately-detailed rooms by creating portals and hopping around from place to place.
This game too also has plenty of very interesting reviews that make you wonder how those reviewers had the time and creativity to come up with those. Here's one such review:
BEFORE YOU BUY THIS GAME
- Note that after playing this game your brain WILL explode (with knowledge)
- Understand that your IQ will increase
- May contain traces of Smooth Jazz
- Know that this game is awesome
Don't worry about missing out on discounts as once you click over to Steam's website, you will be able to see "yesterday's" deals as well. To give you an example, NBA 2K15 is on sale for $46.89 (reg. $69.99), which is a 33% discount.
By scrolling all the way down, you will also be able to see all of Steam's 6187 games on sale... yep, that's just how major their holiday sale is!
(Expiry: 2nd January @ 10am PST)