15% off All Boots with Code @ Robeez Canada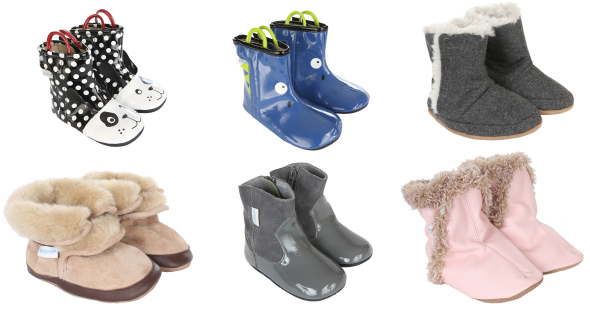 I've been looking at slippers for our one-year-old for the last little while because, for SOME reason, as you get older and clothing sizes get bigger, they stop putting those fantastic footies on everything. And who has time for those little baby socks that always disappear? One search regarding quality footwear for babies will bring you numerous responses and they'll all contain Robeez as a recommendation. And lucky for me (and you!) Robeez Canada currently has a promo code for 15% off boots that even works on sale items! Use code F62SA at checkout to receive the additional discount.
Coupon code: F62SA
Discount: 15% off boots
Expiry: 13 February 2016
Aa always, I started my search in the Robeez Sale section. How cute are these bright blue Dennis the Dinosaur Mini Shoez Boots? Originally $46, they're already on sale for $31.99 but the price drops to $27.19. At the same price point are these Pepper Mini Shoez Boots and we have a dog that looks a little bit like Pepper.
There are lots of cute options that are still full price, but that price drops 15% with the coupon code. I love these Morgan Soft Sole Boots, though they're only available in size 18-24, that happens to be the size I would purchase. Regularly $42, I'd pay $35.70 with the discount. These sweet Robeez Cozy Ankle Soft Sole Boots are $48 but drop to $40.80 after applying the code.
Robeez Canada orders over $50 ship for free. All others are charged a flat rate of $6.95.
(Expires: 13th February 2016)