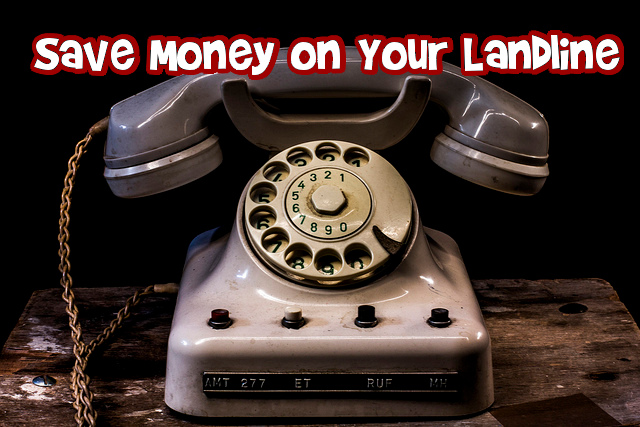 According to the CRTC (Canadian Radio-television and Telecommunications Commission) the average monthly cost for a landline varies from $35 to $55 a month.  Annually, the landline costs anywhere from $420 to $660 a year.  The lower end is for a basic landline with  no caller ID, no voicemail, no call waiting, and no bells and whistles.  When you add caller ID and call waiting and other necessities to a landline, that adds up a lot more monthly.  Over $600 is a lot of money for something that isn't considered a necessity.  These days, the Internet is considered more of a necessity, something that we need to use on a daily basis, more than the landline telephone.
Who still has a landline?  Well my mom still does and I do call her on that even though she has a cell phone (she has limited daytime minutes).
How do you save money on your landline?
One way to save money on your landline is to... you guessed it... get rid of it.  Even Globe and Mail recommends this to save money on your landline.
As much as I have fond memories of talking on the phone for hours on end as a teenager to my crush, or to my friends, the days of talking for hours are over.  These days, adolescents and teenagers rarely talk on the phone and mostly text.  In fact, a lot of people mostly text (that's another issue altogether, we are losing our communication skills, but I digress).
In a previous article on how to save money on a home phone line, I mention using VoIP services instead of a landline, which means Voice over IP, and discussed providers such as Skype (this is the one I usually use, works great when I am overseas or traveling, long distance calls are dirt cheap) and Magic Jack.
The Downsides to Skype and Magic Jack
Some of the downsides to Skype are dropped calls. I don't know how many times I have to redial to get through sometimes, when I call from overseas. For Magic Jack, the downsides include poor call quality and an annual fee of $20 a year in addition to the $50 to purchase the Magic Jack device.  I have also heard that the voice quality on Magic Jack is not the greatest.  Also, you cannot keep your current phone number (which is a big downside for many).
Ooma, a New Sleek VoIP Contender
I recently heard about Ooma, a new VoIP contender that costs $149.99 CAD to purchase the device (kind of like purchasing Apple TV) and it includes all the bells and whistles, such as voicemail, caller ID, and call waiting... forever.  You connect the Ooma device to the Internet modem and your home phone and then set it up online and you are done.  The voice quality is better and according to the website, you might not notice a difference because you are using your home phone like you usually do.  In addition, all calls across Canada are free.
The monthly charges are taxes and the emergency phone number fee which for the province of British Columbia, amounted to $3.98 a month.
With Ooma, you can keep your present home phone number for an additional fee (I'm not sure what it is).
Magic Jack is, I believe, more economical than Ooma, but Ooma looks so sleek and smooth.  Is it worth double the price of Magic Jack on an annual basis (plus the additional more expensive upfront cost).  Ooma can even connect with your Nest system if you are fancy enough to have one.
Ooma Reviews
As with many things, I like looking at reviews.  On Amazon.ca Ooma tell Canada has about a 4.5 star rating which is pretty decent, however there are some issues that reviewers notice like having to call the number twice, or not being able to call 1-800 numbers.  One reviewer labelled it as the "Netflix" for telephone service.  Note- you cannot buy Ooma on Amazon.ca anymore, but it can be still purchased from Bestbuy or on the Ooma website itself.
PCMag also has a review on the Ooma telephone service, but I believe it is the U.S. version of the device.
I'll be sure to tell my mom about this new fangled device, but not sure if she will make the change!
Bargainmoosers, have you used Ooma before?  What do you think of it?  Do you have a landline?
Photo credit: Tim G. Photography