Bargainmoose Christmasathon Day 6: Win a $50 Amazon.ca Voucher Today (Plus bonus Entries to iPad Mini Contest)! (Closed)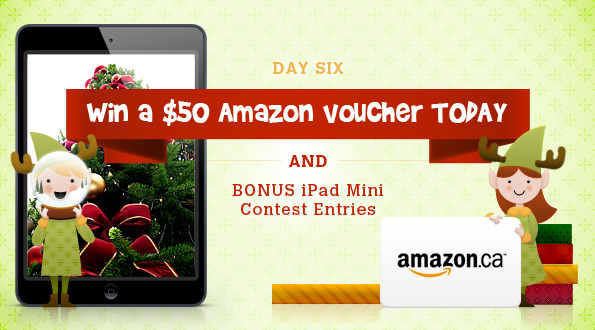 *** Contest now closed, winner was Paul ***
On the 6th day of Christmas, my true love gave to me.... 6 iPads minis, 5 golden shoes... 4 Kitchenaid mixers mixing, 3 DVDs a-playing, 2 cellphones a-calling, and a stand for my plasma TV! If you'd like an iPad Mini, enter today's contest and you will get a bonus entry for the main contest!
How to enter today's contest for a $50 Amazon.ca gift voucher
Check out the deals for your local city from Buytopia.ca. If you could buy any local deal on there right now, what would you choose?
By entering today, you'll be entered into the contest to win a $50 Amazon.ca gift voucher, and you will also gain a bonus entry into the grand prize of the iPad Mini. Come back each day for more $50 Amazon vouchers, plus bonus iPad Mini contest entries!
Remember, if you're on the lookout for last minute Christmas gifts in the few days before Christmas, Buytopia is a good one to keep in mind. If you don't have time to get to a store, you could print out a voucher for a local restaurant or beauty salon, and gift it in a Christmas card.  :)
Gain bonus entries for the $50 Amazon voucher today:
 Today's Rules:
Canadian entrants only
1 type of contest entry per household
Ends 9th December 2012
Contest subject to change and admin's decision is final