Bargainmoose Christmasathon Day 5: Win a $50 Amazon.ca Voucher Today (Plus bonus Entries to iPad Mini Contest)! (Closed)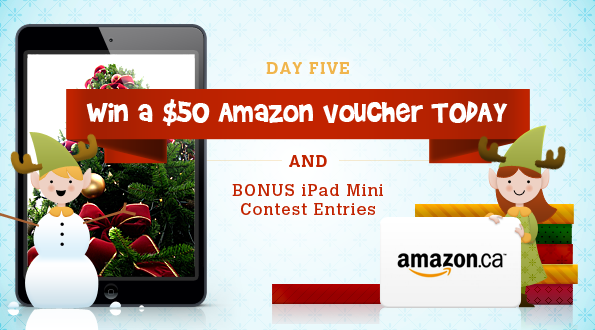 *** Contest now closed, winner was Maxine! ***
Half way there! This is the 5th day out of 10, in our super contest to win an iPad Mini for Christmas. Loads of moosers have been getting in on the daily contests, posting deals, tweeting and facebooking for extra contest entries - thank you all for spreading the love!
How to enter today's contest for a $50 Amazon.ca gift voucher
Over at The Bay's store this weekend only, what do you get for free when you spend $75 or more?
By entering today, you'll be entered into the contest to win a $50 Amazon.ca gift voucher, and you will also gain a bonus entry into the grand prize of the iPad Mini. Come back each day for more $50 Amazon vouchers, plus bonus iPad Mini contest entries!
Gain bonus entries for the $50 Amazon voucher today:
 Today's Rules:
Canadian entrants only
1 type of contest entry per household
Ends 8th December 2012
Contest subject to change and admin's decision is final