Sportchek Cyber Monday Sale NOW On!!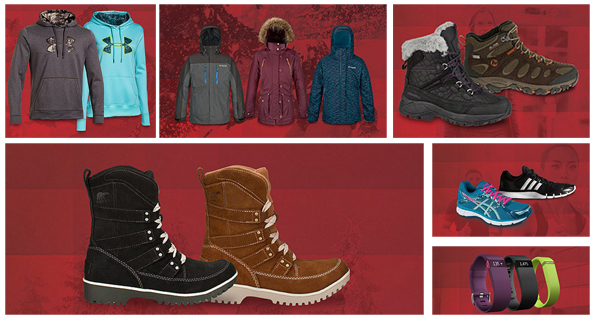 It's the wee hours of the morning, we're sitting here drinking coffee and watching out for the Cyber Monday deals as and when they kick in! I've been sitting pressing refresh on the Sportchek site, waiting for the Cyber Monday deals to load – and they've just started! You can save up to 60% on their Cyber Doorcrashers, and what's even sweeter is the fact that there is free shipping on all orders
(Sorry to the folks in Quebec, you can't order online from Sportchek)
There is lots to choose from and if there's a specific type of item you are interested in buying, then I recommend just clicking the link above and having a hunt for it. I'll highlight some interesting buys in here for you.
First up, you can get 50% off the price of ladies Sorel boots, with some lovely fashionable boots in here! These women's meadowlace casual boots come in a choice of 6 colours, and they're between $79.99 and $84.99 with free shipping. I really love the purple pair!
If anyone has been looking for a deal on Fitbit activity trackers, I've noticed that quite a few stores have had them on offer this Black Friday and Cyber Monday weekend. Sportchek has joined in with this trend, offering up to $30 off select trackers here. Prices start at $49.99 and go upwards from that.
These Burton Fireside Sherpa mens' hoodies look really toasty and warm – plus they are half price. You can pick them up for only $39.99 with free shipping, and there's a choice of black or purple. I don't agree that they're mens though – I would wear these!
If you're an Under Armour fan, have a look at these – 25% off these Under Armour big logo hoodies and select fleece pants. I'm personally not a fan of the big logo on those, but I wouldn't mind wearing this purple Under Armour Storm Armour Fleece Big Logo Twist Women's Hoodie – it's cute (and $52.49).
I've only highlighted a few items on offer here, there are literally thousands more items that are discounted in this Cyber Monday sale from Sportchek.ca.
(Expires: unknown)