Up To 50% Off Casual Footwear PLUS BOGO 50% Off @ Mark's Work Wearhouse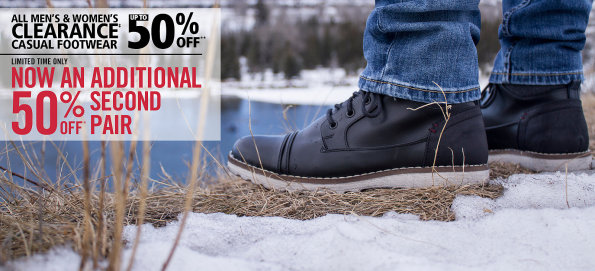 There's no better time than now to get your shoe shopping on at Mark's Work Wearhouse. Right now, they have a huge sale on all casual footwear for both men and women. Your first pair will be up to 50% off, and as if that isn't already enough, you'll get your second pair 50% off of any option that is of equal or lesser value. You can get two pairs of Sorel boots for under $200 with this deal, one for you and one for your spouse...or just two for you.
With options as low as $20 on boots and shoes, you're sure to find at least two pairs that catch your eye. Every style seems to be on sale right now. Everything is covered from these Buffalo Rubber Boots on for $19.88, these Dublin Low-Cut Lace Up Shoes  now only $29.88, and even these great Wedge Booties on now for only $34.88. With styles for men and women, you'll have a hard time sticking to just two pairs. They have a much larger selection online than they have in stores, that's for sure.
Mark's Work Wearhouse has been around for ages for good reasons. Their prices are great, and their durability is even better. They have been a go-to for so many families because of their one-stop-shop feel where you can find something for any family member. It's so great to see them keep up with fashion trends too and not only stick to the working style boots and shoes. They really have impressed me with their fashion game.