Up to 45% Off Shoes & Boots & Free Shipping @ Toms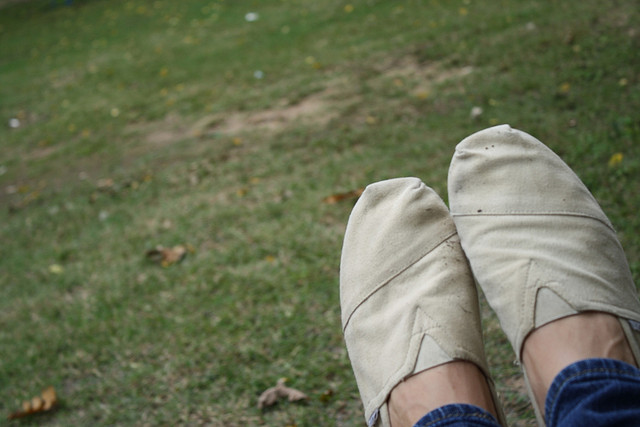 For a limited time, you can shop the sale section of Toms.ca and receive up to 45% off select shoes.  Free shipping with no minimum is included for a limited time. I love Tom's do-good attitude and I love saving money on them even more!
You may remember from one of my earlier posts that I talked about being sceptical of Tom's shoes. Sure, they look like a pair of comfortable slide-on shoes but I was sceptical of the price. I am tired of my cheapie cotton shoes falling apart after less than one season. I have friends who have bought Tom's and they always last longer than the cheapie option I picked up. Maybe a pair of Tom's is the way for me to go to, especially with these sale prices. This is a higher value sale for Toms, we do not often see deals this good from them.
Throw on a pair of Tom's and head to the store or go play in the grass. Most of Tom's slide-on shoes just remind me of springtime like these University Rope Sole Women's Classics which were $65 and are now $37.80. These shoes are available in Ash, Black, Navy and Red so there are lots of choices. I can see these being a go-to pair of shoes just to run to the park with my daughter.
These Grey and Orange Wool Classics are not really my style but I can see a few of my friends liking the pattern. These shoes were $65 but now are only $37.80. They also come in a grey and red pattern. The pattern reminds me of the colours of Mexico.  These would slide nicely into your bag for a quick vacation if you have one in the works. These come in a large variety of sizes also. I bet shoes would work well to keep your toes warm on spring days when the weather is unpredictable.
For the little one in your life, check out these Sand Suede Tiny Toms Nepal Boots which were $70 and are now $42.25. The colour choice includes Sand, Black or limited sizes in Grey. There are a large variety of sizes in both baby and youth available. These also have a fleece lining and remind me somewhat of UGG boots. My daughter has a similar pair and asks to wear them all the time. The reviews look great on these boots.
The real kicker here is on top of a great quality pair of shoes, Tom's is also providing a pair of shoes to someone in need. I really like Tom's business practices and charity work. It is almost like a two for one deal for me and someone else who needs it.
You want to grab these deals now as the free shipping is only slated to last through January 30th (however they always extend this!). Tom's is not clear as to how long the sale items will be available. Right now, there is a great selection for ladies, men and kids so it is a great time to stock up.
(Image Credit: Saxon Campbell)
(Expiry: Unknown)