The Shoe Company Canada: Free Canadian Coupons!
These free discount coupons for The Shoe Company Canada can be printed out and taken in-store with you, to save money on shoes or sandals. Alternatively, you can buy online, and you will see the discount automatically reflected in your shopping cart. Here are the details: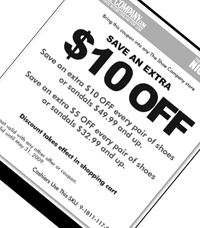 Save $5 when you spend $32.99 or more @ The Shoe Company
Save $10 when you spend $49.99 or more @ The Shoe Company
So if you have had your eye on that new pair of gorgeous sandals for the summer, or even some discounted boots for next winter, this might be a great opportunity to score a mega-footwear bargain!
The Shoe Company coupons expire on the 31st of May 2009.