The Last Hunt: Hunter Original Asymmetric Colour Block Boots Were $210 | Now $95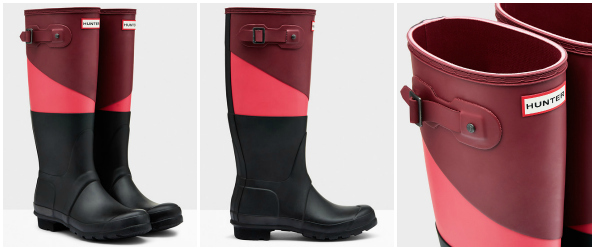 I seriously love some of the Hunter deals we have had lately and this one is in the run for my favourite. The Last Hunt is offering 50% off these gorgeous Hunter Women's Original Asymmetric Colour Block Boots that retail for $209.99. Use coupon code BISON for an extra $10 off the sale price of $104.99, thus bringing the boots down to $94.49. You will have to pay for shipping - which is $10 - but the coupon offsets that expense.
There is another reason I am seriously stoked about this deal - besides the great price - is the size availability. Every size from 5 through 10 is currently in stock and ready for you to purchase. It is pretty rare than anything on The Last Hunt has full size availability, let alone a pair of awesome Hunter wellies in a great colour combo. These originally cost more than the standard Original Tall Hunter as they feature an asymmetrical colour block pattern made up of pinks and burgundy.
This pair of boots is handcrafted with hand-applied layered geometric details. Essentially, time and effort went into these boots. They are the same shape and style as the Original Tall and will fit the same boot socks as well. Like all Hunter wellies, these are completely waterproof to keep your feet toasty warm. I love this deal so much because you get a beautiful pair of boots at an amazing price and all sizes are still available!
These are one beautiful pair of boots and I only wish that I could funnel my ample calf muscles into the tall boots. If I could, then these would be coming home with me right about now. As it is, I am sort of doomed to wear the short boots the rest of my life.
I price compared these boots elsewhere just to make sure you are getting the best deal. Altitude Sports has the blue version on sale for $146.99. Hunter Boots Canada has the pink version - this version - on sale from $210 down to $149 with all sizes except size 6 currently sold out. Hey, you can get them for $50 cheaper AND choose from all sizes at The Last Hunt.
The coupon code above is valid on orders of $50 or more on The Last Hunt's website. Use it to get other great deals as well.
(Expiry: Unknown)