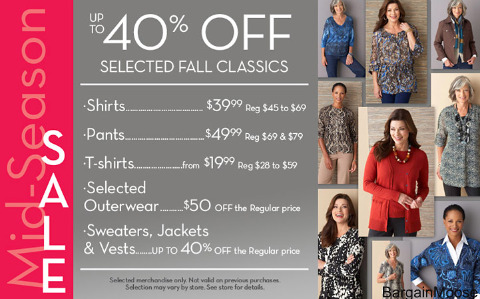 We got a lovely email from Tabi letting us know that they are having their mid season sale! This sale includes deals like the following:
Shirts $39.99….. reg $45 to $69
Pants $49.99….. reg $69 to $79
T-Shirts from $19.99….. reg $28 to $59
Selected outerwear $50 OFF the regular price
Sweaters, Jackets & Vests…. Up to 40% OFF the regular price
We know this is exciting to those who like to shop at Tabi, so we of course wanted to share it! This is an in store only sale though, as Tabi doesn't currently have an online store (crossed fingers, toes, and we do so hope they get one soon).
I still have never shopped at Tabi, though they do seem to be rather geared towards an older age range than myself. Do we have any Tabi shoppers who would like to share their shopping experience with us? If so, drop us a comment!