Shoes From $10 Shipped @ ShoeFreaks.ca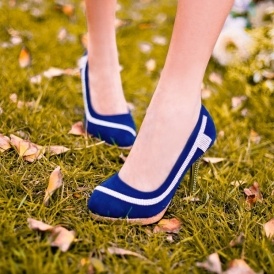 I am a shoe freak which explains perfectly why I like the ShoeFreaks.ca website. I just took a look through their clearance section and was pleasantly surprised. Their clearance prices start as low as $13 and there is the coupon code SPRING to get an extra 22% off - so you can quite literally pay as low as $10.14 including shipping for a pair of shoes. Did I mention that ShoeFreaks.ca has free shipping with no minimum purchase?!
Prices start really low - but the shopping can be a bit tricky by the looks of it. Some of their clearance shoes only have one size left, but luckily the size is listed right in the name of the shoe. So there shouldn't be any frustrations within your shopping today.
I am a size 8, and I think these Demonia Zombie Pumps are quite striking. While they wouldn't be something I would wear daily, I think they would be great for Halloween or costume parties. They were $63 and on sale for $38, so with the additional 22% off your price will be lowered to just $29.64.
If you are a size 9, then you may like the Demonia Daisy Flats in Red which are on clearance from $44 down to $26. Again, with the price being reduced by 22% you will pay just $20.28. Not bad right? So take a look for your size and grab a pair of new spiffy shoes to flaunt this summer.
ShoeFreaks.ca offers free shipping on all orders. Their prices are all in Canadian dollars and their orders are shipped from their warehouse in Montreal, so no shipping fees and no duty fees. Score!
(Expiry: Unknown)