Shoes & Bags From $20 & Extra $20 Off $100 @ Naturalizer Canada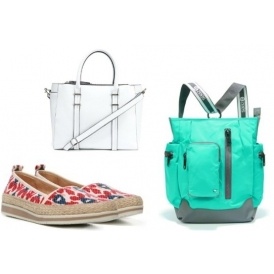 Naturalizer Canada has tons of selection in their sale section - shoes and hand bags start at $19.99 and you can also save $20 off $100 sitewide on top of that by using the promo code NATCAF.
Naturalizer has a ton of cute bags and shoes available - and I see discounts of up to 84% off before getting the additional $20 off $100, so definitely a lot of deals that can easily be added to your cart. I am in the market for a cute pair of easy, casual heels. This may be my final destination!
These Sonya Heels look easy to walk in (I'd break my neck in your typical high heels), and they are on sale from $119 down to $39.99. They come in black and nickel alloy, and most sizes are available. They are made of faux leather, which means for easy cleaning even if you let them sit on the shoe rack and get dusty! Maybe I need to go out more often.
For handbags, I really like this Oxford Purse that is available in white or black. I like the white better, except that it would get super dirty, super quick. Especially with kids in the equation. It is currently 65% off though, so whichever colour you pick will be an awesome buy at $29.99.
There are tons of sale items available, from comfortable slip on shoes to your next outfit stapling handbag. So have a shop around and see what you can score. Naturalizer Canada offers $6.50 flat rate shipping on the first item, and then each additional item is charged $2 for shipping.
If you like this, you may like these...