Sears Canada: One Day Sale - Up to 75% Off Select Shoes, Boots and Slippers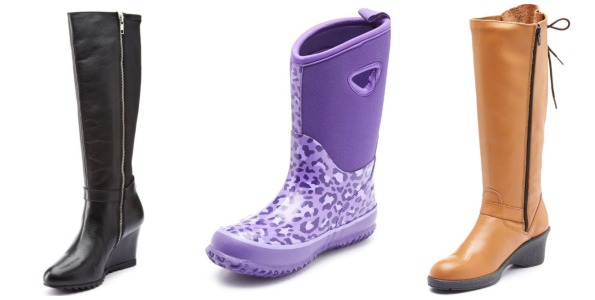 Time to update your shoe collection? Don't worry! Sears has got you covered. With this one day only footwear sale, Sears Canada is bringing in the big guns and offering sales of up to 50% off on everything from children's to adult sizes for boots, shoes and warm and fuzzy slippers for these cold winter nights. To help make this an even sweeter deal, shipping is free on any purchase over $49, and if you're like me, you'll hit that target in no time.
About this time each year, I mourn my newly purchased and well loved salt-rimmed winter shoes and start looking for a new pair of boots to get me through the next winter. Nothing breaks my heart quite like having to throw out a pair of boots that I bought only a few months ago, but Moosers, as we know, Canadian winters take their toll on our favorite pair of leather boots in no time. Between wear and tear, and salt rings, nothing screams "get new shoes!" quite like your boots do by mid January.  Luckily for me, nothing mends my broken heart quite like a great deal.  Sears just made my job a whole lot easier today by offering this amazing sale on select footwear.
Today's sale covers everything from children's, to ladies and men's footwear, in all sizes and styles. Though the majority of the styles focus on winter footwear, let's not forget that with the spring sun comes puddles everywhere. Thankfully, Sears is providing us with many waterproof options on this one day sale for any one of your family members.
Is 50% just not enough of a sale for you? No problem! Sears is also offering a few surprise sales of up to 70% on select footwear as a part of this one day sale. Now if that's not a good excuse to buy shoes, I don't know what is!
Here are some of the sales ranging from 50% to 70% off for today only;
With prices ranging from $6.74 upwards, you're sure to find something in your budget. Plus, don't forget that shipping is free on purchases over $49 as long as they weigh below 65lbs. If you're short of $49, don't fret because shipping to your nearest Sears location is always free.  Now I would love to stay and chat, but I can hear a few pairs of boots calling my name.
Happy findings, Moosers!
(Expiry: January 20th 2016)