(Save 73%!) Shellys London Salvant Suede Flat Sandals now only $30 @ Little Burgundy Canada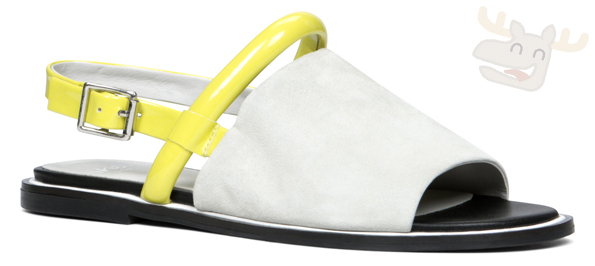 Now is absolutely one of the best times to pick up cute summer sandals and stock up for next year. I spotted the Shelly's London Salvant Suede Flat Sandals over at Little Burgundy at a great price right now. These sunshiny sandals were $110, but you can grab them for only $29.98.
About two weeks ago, Avigayil blogged about a big sale on Shellys London shoes. Most of those deals have long since sold out. If you missed those deals the first time, you have a second chance with these fantastic Shelly's London Salvant sandals.
These suede flat sandals are perfect to add a little style and class to your collection. I particularly like the beige and yellow combo. They would look darling with white shorts or capris and a few well-placed yellow accessories. Wear these casually, or to dress up a summer outfit a little. These shoes are quality and are made of leather with a rubber sole. Sizing availability:
Yellow and beige: 6, 6.5, 7, 7.5, 8, 8.5, 10
Even though sandals are on clearance right now, the price is still better at Little Burgundy. I found these same Shelly London shoes at Hudson's Bay on summer clearance for $46.20 plus additional shipping charges of $5.95. I was not able to find these sandals anywhere else, and I suspect they have already been sold or the summer line has already been removed for the season.
Shipping at Little Burgundy is a very reasonable $5. They will ship to your door completely free if you throw a couple more items into your cart and your total hits the $75 minimum. There are lots of other great sandals on sale and is worth a look-see before you complete your order.

I may have thrown these adorable Roxy sandals into my cart that were $56 but are now only $24.98. While not as big a discount as the Shelly London sandals, these sandals are adorable and a low overall price. I think my summer wardrobe needs both sandals. You are in luck if you are size 6, 6.5, 7.5, 8.5, 9. Those silver sandals with a brown woven synthetic strap across the foot are so cute and look more expensive than they are. These just look like they were meant for a romantic or fun day at the beach.
These shoes will not last long at this price. Add a few different pairs now and you will be all set for that vacation you need this winter. Your feet will thank you for the sunshine goodness, grab them now!
(Expiry: Unknown)