Puma Sale up to 75% Off (April 14th Only!)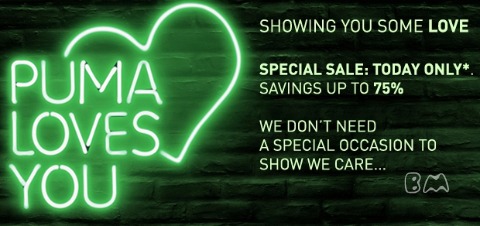 This sale is awesome, fantastic, and man... I just spent money again! Puma has a special sale on where you can get up to 75% off clothing, shoes and accessories. This is on top of no taxes or duty when shipping to Canada! This sale is no joke.. check out some of the deals!
I spent approx $110 on shoes, and $90 on clothing. Most of that bill is on one pair of shoes, I am a major shoe person. Check out what I bought:
Shoes:
Btw, if you are going to take the risk like I did and buy shoes online, Puma shoes run small. I am a size 8 - 8.5 so I ordered size 9. Check out the comments for quotes from diff people on the sizing of Puma shoes.
Clothes:
I also bought the Golf Track Jacket which is now OOS for $32, originally $80.
Totally awesome deals. Would have been so much cheaper without those hot Sergio Rossi shoes.... lol!
Right now: you don't pay the duty or the taxes which saves you an extra 18%!!! Great time to buy from Puma! All prices in USD, which can also be a bonus with our dollar so high!
*The PUMA Private Sale is valid at Shop.PUMA.com for shipments to the U.S. and Canada only while supplies last. Sale prices are as shown on select styles and colors. Sale prices are valid beginning 6:00 am Eastern Time, 4/14/2011 through 6:00 am Eastern Time, 4/15/2011. PUMA reserves the right to cancel this sale at any time. Additional restrictions may apply.