Puma Canada: Private Sale Up to 75% Off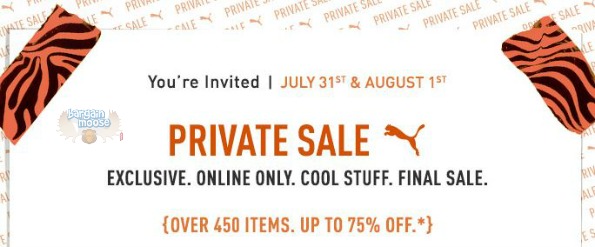 Puma Canada has a two day private sale where you can get up to 75% off Puma gear for men, women, and children.
This is a two day only sale and once it's gone, well, it is over. There are some great deals and cool looking items in this sale. I like these Future Disc Blaze Lite Men's Sneakers that were $162.50 and are now $81.25. They also have the 'web' version: Future Disc Blaze Lite Web Men's Sneakers that were $175 and are now $87.50.  They are fantastic futuristic-looking shoes.
If you love the Mini Cooper, or if you just love a good looking jacket, check out the deal on this MINI Outsider Jacket. It was $237.50 and is on sale for $95. It is still available in all sizes and is pretty nice looking. I didn't even know that Puma had teamed up with Mini Cooper to make a clothing line.
Check out these and all the other deals at Puma Canada.
Free shipping on orders of $149.
(Expiry: 1st August 2013)