Martino Women's Tall Waterproof Winter Boots With Back Twin Gore Was $240 | Now Only $100 & Free Shipping @ Sears Canada With Coupon Code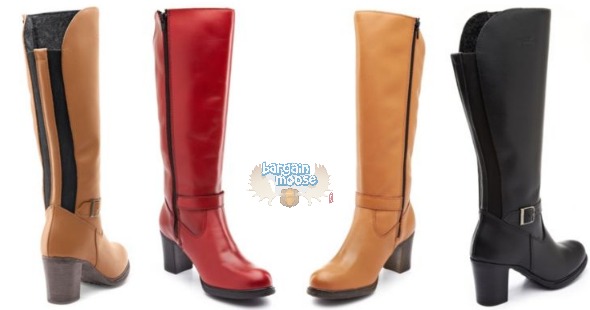 Sears Canada wanted to turn up the heat a little bit on their current sale. To do so, they released two new coupon codes so you can save on top of savings. These coupon codes can be applied to select sale items. In particular, I found this really nice pair of Martino Women's Tall Waterproof Winter Boots with Back Twin on sale from $239.99 down to $119.99. Once you apply the available coupon code, you will pay just $99.99.
Click here to shop @ Sears.ca now
Coupon Code: 941612147
Discount: $20 off when you spend $100
Expiry: 25th January 2015
There is also another coupon code available if you plan to spend more:
Coupon Code: 941612154
Discount: $50 off when you spend $200
Expiry: 25th January 2015
These Martino Women's Tall Waterproof Winter Boots with Back Twin Gore for just $99.99 can suit every lady's taste. There are three colours to choose from including bordo (red), black, and tan. The availability of sizes is actually pretty good right now, size 7 is sold out in tan and size 8 is sold out in bordo. You can even select between wide, medium wide and medium which is great because I actually have a wider foot than most.
If you take a good look at the back of these boots, you will notice that the back is lower than the front and is also made of an elastic material. I would normally steer away from high boots like this, it causes discomfort right behind my knee. The design of these boots looks like it would solve this issue. My personal favourite colour is the bordo although I know it would be hard to find accessories to match the unique colour.
The upper portion of the boot is made of full-grain leather. Below the zipper is entirely waterproof so you can stay comfortable and dry while looking stylish. The heel is 2 1/2" high, so it shouldn't be too high for many of you Moosers. It even has a cute little buckle strap for extra detail.

I purposely blogged about these boots because they will still be over $99 after using the coupon code. That makes you eligible for free shipping with this purchase. Otherwise shipping would cost you $7.97. These boots also have one of the greatest discounts available in the footwear sale section.
You can view all of the Sears Canada coupon codes in our forum. If you love shopping at Sears.ca, I suggest you sign up for the email updates in our coupon section so you don't miss any future offers.