Mark's Canada: 25% Off Windriver Rubber Boots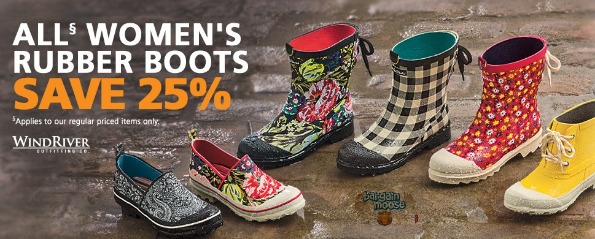 I don't know about you, but I am wet as a duck out here. A duck without waterproof feathers. Mark's Canada has just the solution for the muddy puddles you might also be experiencing right now. Get 25% off all women's rubber boots by Windriver Co.
I first saw Windriver boots about a year ago when I walked into my massage therapist's office and surveyed the array of shoes only to have my eyes drawn to the cutest pair of little red rainboots ever! While strategically putting down my own boots I managed to read the name off the heel of those little red beauties and discovered they were Windriver.
My absolute favourite of this sale is the Low Lace Rainboot in the cutest buttercup yellow. Originally $34.99, it is now on sale for $26.24. The first pair of boots I ever saw of Windriver were low lace boots and I really adore the style. I think they look great with skirts and jeans alike. They are also priced super reasonably!
If you need something that comes higher up on the leg, then check out these Black Plaid Rubber Boots that were $44.99 and are now only $33.74. Black matches pretty much everything and they will keep your calves safe from mud streaks on your way around town.
Sizes range from 6 up to 11. Shipping is a flat rate of only $6.50.
(Expiry: 31st March 2014)