Le Chateau Canada: 70% Off Select Boots & Shoes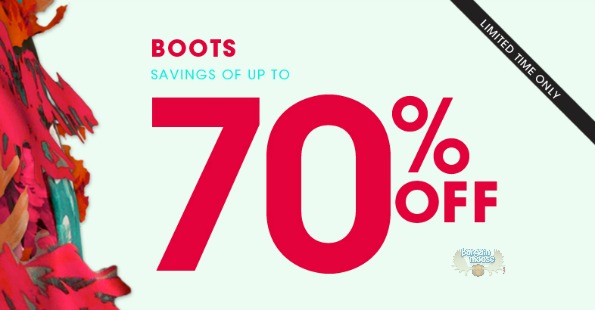 Le Chateau Canada is giving us up to 70% off select boots and shoes.  This is available in-store and online and for a limited time only while supplies last.
If I'm going to look at boots, I would like something that is good for all seasons and these Suede Buckle Wedge Booties are just what I mean.  These were $79.95 and are now $39.99 with black or dark taupe to choose from.  There were surprisingly many sizes still available when I last checked.  I like the strap and buckle look, and they are both one of the features here along with a stacked wedge, heel height of 3.25"and are also made of leather.
I like a flat heel as well for longer walks and these Leather-Like Ankle Booties were $59.95 and are now $39.99.  These are only available in black with sizes 6 to 11 to choose from and are actually a plastic designed to feel like leather.  They are a slightly relaxed fit with a bow featured on the back.
I'm not a real big fan of high heel shoes, but I don't mind these Kid Suede Italian Made Kitten heel shoes.  These were $110 and are now marked down to $69.99.  They have a sort of pretty petite look to them with a 2" heel, made of kid suede in Italy and a pointy tow with a small simple bow.  The colours are black or dark taupe with sizes 6 to 11 to choose from.
My flat shoe choice would have to be these Suede & Leather Pointy Toe Ballerina Flats that were $69.95 and are now $29.99.  I love the price and the simplicity of the shoe.  Just suede with leather trim, a pointy toe enhanced with a small simple bow.  These are available in black or taupe with many of the sizes 5 to 10 still available.
Shipping: Depends on service chosen and quantity of order.
(Expiry: Limited time only)