Half Price Women's Merrell Kiandra Winter Boots @ Sport Chek Canada Now $75 (Free Shipping EXPIRED)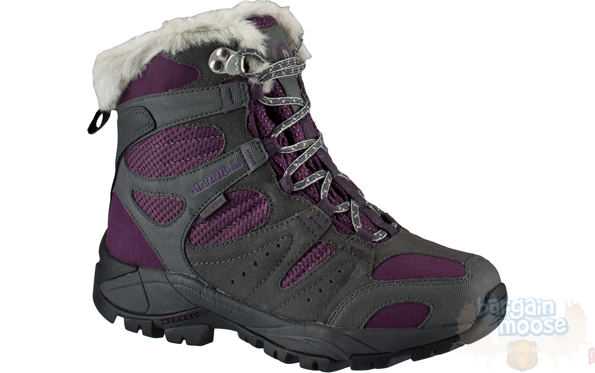 In browsing the sale section online @ Sport Chek Canada, a pair of Merrell ladies boots caught my eye. These Kiandra Winter Boots are half price right now, down from about $150 to only $74.95.
Usually, shipping is only free if you spend $99 or more but you can use the Sportchek.ca coupon code AFS4913 to score free shipping on a minimum spend of $49 – making it perfect for applying to these Merrell shoes. This is a saving of $9.95 on your order. :)
Price Comparison
It's hard to price compare footwear in particular, as not a lot of stores will carry the exact same model of shoes. But I can show you a general price comparison of similar shoes from the same brand, at other online Canadian stores. This will give you a general feel on the quality of the Sportchek sale price. For example, you can pick up these similar Merrell Women's POLARAND 6 WP boots for $180 @ North by Northwest. And these Merrell Women's Siren Mid Thermo are selling for $108.49 @ Live Out There. I looked on The Last Hunt too as they usually have a good selection of discounted boots, but the closest I could spot was these Merrell Azura Mid Waterproof shoes for $94.99. Another similar pair would be these Merrell Women's Chameleon Thermo 8 Waterproof Synthetic shoes, which are $119.99.
So even though the Sport Chek price doesn't make your jaw drop instantly, it's still a really sweet low price for this type of footwear. I was chatting about this deal with our Moose author Kristy, and she said:
…and Merrels, they'll deal with snow well.
True! And that's just what you need this time of year for the rest of the winter. I also think that this type of brand is hard-wearing and durable, and can last you through quite a few winter seasons.
I also found these Merrell Decora Prelude WP Winter Boots which are also half price, down from $250 to $124.95 with free shipping. I LOVE THESE! I really don't need more boots though, no matter how gorgeous they are.
While you are on Sport Chek, there are quite a few other sales happening right now, such as buy 1 get 1 free on men's and women's footwear. The Merrell boots mentioned above don't apply to the BOGO offer, but there are a lot of other items in that particular sale too.
(Expiry: unknown)