Fila Sandals & Shoes Up to 60% Off @ Zulily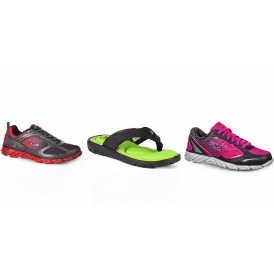 I don't know how my teen daughter wears out her shoes so quickly, but this is a great Fila shoe sale to take advantage of to get her back into a high quality shoe at a fantastic price. As luck would have it, she has the same shoe size as me—how convenient is that??
Check out these super Fila Black & Green Amazen Memory Foam Sandals made with comfortable and soothing memory foam, selling for $26 down from $51. I have a similar pair for use in the kitchen, when cooking. Instead of standing on a hard kitchen floor, it feels like walking on a cloud. (At first, until you stand there too long peeling potatoes.)

Now that I think of it, my son could really use some new shoes. I don't know what it is about boys but their feet seem to grow every month. What's up with that? Anyway, look at these Black & Silver Stride 3 Running Shoes for men, for only $37, down from $97. $50 savings!
If I get these shoes for my daughter when she's on the court for basketball, surely I will easily spot her? These Fila Pink & Pewter Fresh 3 Running Shoes could be just the thing. These shoes also have a $50 savings, on sale for just $37!
These shoes will take around 2-3 weeks to arrive, but the wait will be worth it! The order usually ships within 10-12 days of the order date. After that, it takes around 5-7 days for your order to arrive in most metropolitan areas (and up to 12 business days for rural areas.)
Shipping & handling at Zulily starts at CAD $5.95 and can reach up to CAD $11.95 depending on quantity and/or type of product selected. Import fees are included in the price of the product, and you are able to view the total amount of taxes charged at checkout.

(Expiry date: April 27, 2016)