$1 Flip-Flops in Stores, $2 Flip-Flops Online Today Only @ Old Navy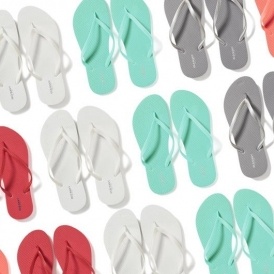 Just a reminder - today is the flip-flop event at Old Navy and you don't want to miss it!
Finally, summer has arrived. With summer comes pedicures, flip flops... and beaches! Flip flops seem to be a necessity during these hot months, and that is why we love that Old Navy Canada has their Flip Flop sale where these cute shoes are just $1 per pair when you shop in stores. Shopping online you will notice that they are $2 per pair, which isn't bad either. The flip-flops will be available for just a buck at Old Navy stores today, Saturday, June 25th only.
There are two ways to go about this Old Navy Canada Flip-Flop promo. You can either shop at your local store today and get the flip flops for just $1 per pair, or shop online and pay $2 per pair. Either way, Old Navy Canada usually has a limit of 5 or 10 pairs per person. Obviously shopping in stores is the better of the two options, for one the flip-flops in stores are half the price and for two you won't have to worry about shipping fees or minimum spends for free shipping. Last year, the first 50 customers at each location even got a free pair of flip-flops, which is pretty cool.

If you do decide to purchase your flip-flops online, keep in mind that you will need to spend $50 or more to get free shipping. That is 25 pairs of flip flops! I am sure you can browse around and find other items on sale that you would like though. Otherwise shipping is $8.
(Expiry: 25th June 2016)