Denver Hayes Victoria Slip-On Lace Sneakers Now $30 @ Marks.com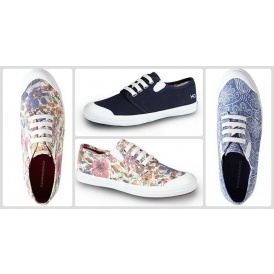 I have to say, my favourite thing about warmer months is tossing my winter boots back into the closet. We are on the home stretch now and once all this mud is gone I can slip on my fav pair of sneakers. I may need to add a new pair to the collection this year though. How about these Denver Hayes Women's Victoria Canvas Slip-On Lace Sneakers? Marks has them on sale from $44.99 down to $29.99—you can't really beat that for a pair of shoes.
These Denver Hayes Women's Sneakers come in four different colours. Choose from indigo, navy, grey and/or floral. The floral sneakers would probably be my favourite, but the grey ones would be easier to match with my outfits. At this price, maybe I won't be too concerned if I snag both pairs.
What I really like about slip-on sneakers is that I don't have to worry about fussing with the laces while holding my son or trying to get everyone else out the door in an organized manner. Plus my kiddo has a habit of putting about 12 knots in my laces so I just can't be bothered getting them all sorted out. Ever tried to undo 12 toddler knots? Not worth the potential grey hairs.
You can spend $99 to get free shipping, otherwise orders will be charged a $6.50 flat-rate shipping fee which still isn't bad to tack on considering the great price of these shoes.
(Expiry: Unknown)