Coupons Canada: ShopAdidas Discount Code – 40% Off All Shoes & Footwear!
Stonking hot deal! You can get a HUGE 40% discount on your online purchases from ShopAdidas.ca with this promotional code!! It starts on Monday the 17th November – make a note in your diary!!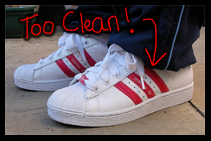 Where:

Online @ Shop Adidas Canada

What:

Whopping 40% Discount!

Coupon Code:

adisave10
Valid: 17th to 19th November 2008
They have a sale section where items are already reduced by 40% - I hope the code will work on those Adidas trainers too! I reckon they will sell out pretty fast of all the bargain priced sneakers – so get in there early!
You get free shipping on a spend of $100 or more. Even if you only need one pair of running shoes, why not see if any other family members want to make an order with you, so you can save on the shipping fees? If you spend less than $100, the shipping costs seem to be a flat rate of $7.49… which still isn't too bad.
Oh and Christmas is coming – if you have a few kids, this might be perfect to get them affordable, fashionable footwear for Christmas pressies!
I wonder if john over at sutori is aware of this deal. His epic about holey-soled Adidas was quite funny!

Thanks for the pic davesneakers!