Canadian Coupons: The Shoe Company - $10 off $49.99+ & More!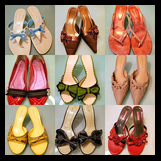 If you saw the previous deal for free pedometers from The Shoe Company, here's another one to spark your interest. There are a couple of other printable coupons too.
The first is for a $10 discount if you happen to be spending $49.99 on shoes (but eecludes boots handbags & clothing). This free coupon is valid for the month of November 2008, so you have a few days left to make use of it.
The second is for a 50% discount on any one accessory if you spend $49.99 or more on shoes between the 1st and 31st December 2008.
The third printable coupon means you can get $5 off $34.99 or $10 off $59.99 on men's, women's and kids' dress shoes. This one is also valid during November.
The fourth coupon is very similar to the third, except it applies to boots instead of shoes.
The fifth and final coupon applies to handbags – you can get a 15% discount on any handbag that costs $34.99 or more, until the end of November 2008.
There we go, all done!! Quite a few coupons there – I hope it saves someone some cash at their local Shoe Company Store.
P.S. If you liked this deal, why not subscribe to daily email updates or our RSS feed?
Thanks for the pic * Beezy *.