Ardene Canada: Get 3 Pairs of Sandals for $15 Plus Totally Free Shipping! (EXPIRED)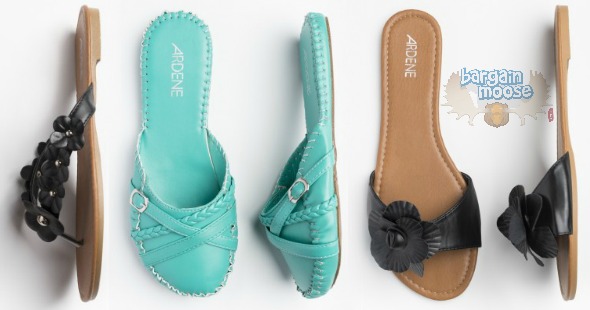 Just now, Ardene Canada's online store is offering free shipping on ANY order, with no minimum spend required. This always attracts me to have a browse of any site, so I did just that. And I spotted a really hot offer on their fashionable sandals – you can choose three pairs for only $15! There's a good choice available in both styles and sizing, so have a browse too:
There are actually 85 styles to choose from on there, and it's working out at 2 for $15 OR 3 for $15 when the original prices were $9.50 to $14.50 before. Admittedly some of the "sandals" are a flip-flip style, but many are a large shoe or flat shoe, even backless flats.
Here are a few of my favourite picks:
Light brown leather backless flats were $14.50 – you could wear these with jeans, shorts, anything really. I wore a pair of flats like this to a more casual-type wedding recently and boy was I thankful. These shoes kept me dancing and comfortable all evening - I will take a pair of these over stilettos any day.
Backless leather flats with straps in turquoise were $14.50 – similar to those above, but in a nice summery turquoise. Turquoise seems to be the "in" colour this year, and I see why.
Purple striped canvas flip flops were $9.50 – a nice little pair for the summer. These flip flops look like they would go well with a matching summer dress or shorts and a cute top.
I love to keep up with the sandal trends, there seems to be a new style every year. That is why I love shopping at stores like Ardene where I can get 2 or 3 pairs for $15. I find Ardene's sandals will more than last you one season of wear, and I would much rather get 2 or 3 pairs of sandals for $15 than spend $100 per year on sandals that may not be in style next year (like those weird jelly flats Crocs had that one year).
Ardene Canada quite frequently offers discounts and promos like this on their footwear, so now is the best time to snag the offers and combine the discounts with totally free shipping.
Moosers, what sandals did you snag from this Ardene offer?
(Expires: eventually)