Aldo: Save An Extra 30% Off Reduced Footwear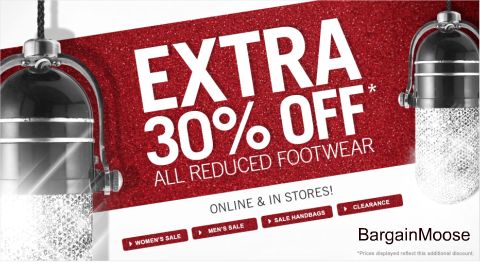 Aldo Shoes is offering an extra 30% off all reduced footwear. There are loads of men's and women's styles to choose from.
Click here to start shopping at Aldo Shoes
Remember, if you sign up for Aldo emails and get a coupon for 10% off your next purchase online.
Ladies, take a peek at these beautiful Mugrage boots for just $34.99 (reg. $110) or these Macias boots for $38.49 (reg. $80) are pretty cute too. If you are escaping the Canadian winter, you might want to check out the selection of sandals. These men's Athol Sandals are $34.99 (reg. $70) and these women's Gabard thongs are $13.99 (reg. $40).
Did you know that Aldo carries styles and sizes for boys and girls as well? These girls Perks flats are just $11.89 (reg. $35). Boys can pick up these Mackinnon sneakers for $17.49 (reg. $50).
I like how Aldo's website allows you to search by highest % off. I like to start there to find my best deals!