Aldo Canada: Amarylice & Numata Wedges $29.98 (Save $50)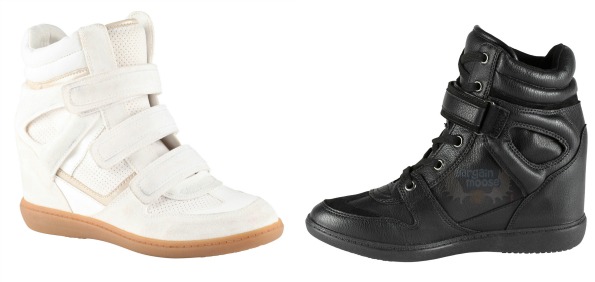 Aldo Canada has a good sale on both the Amarylice and Numata Wedges. Originally $80 a pair, these shoes are now on sale for $29.98 with one colour as low as $24.98.
The Amarylice is available in either cognac or black. The upper is made of synthetic material with a rubber lower. These wedge heel sneaker style shoes are so very popular right now. I have actually been meaning to get a pair for myself, as they would look fabulous with both full length and crop jeans. These sneakers have a padded high top and are both lace-up and have a single Velcro strap. The wedge heel stands 3.5 inches tall. They have a bit of a sheen to them, which will please many fashion lovers. The cognac is the cheapest option of all the shoes. Originally $80, they are on sale for $24.98. The black costs $29.98 (originally $80).
I highly prefer the Numata wedge. It features a sportier look with a perforated textile upper and three chunky Velcro straps. There are no laces on this shoe. The thick tongue adds to the sport appearance. While I usually wear all black, I love these wedges in 'ice' - a sort of white colour - because it really highlights the various textures coming together. I also think they would look fantastic with more casual knit skirts as well as jeans and leggings. Originally $80, the black and the ice are on sale for $29.98 each.
Both styles and all four colours have good size availability with some colours still having full stock. With autumn now here, many girls who like their heels are switching to shoes with a bit more foot coverage. These wedge sneakers are a great way still to work casual heels into your wardrobe while having the warmth of fabric all the way up to your ankles.
Shipping is free on orders of $60 or more. Yet, do not worry about hitting that minimum because shipping is only a $5 flat rate. They also just introduced a 'ship to store' feature. During checkout, you should have the option to have your order shipped to your local Aldo store free if there is one close enough. Sign up for Aldo's newsletter to receive 10% off your first order. I am not sure if that coupon will be stackable with the clearance section, but you can always try.
(Expiry: Unknown)