70% Off Clearance Shoes and Boots + 20% Off Sale Coupon Codes & $5 Shipping @ Naturalizer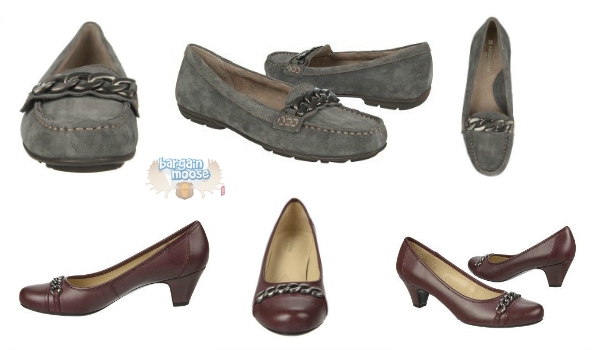 Need some new reliable shoes? Naturalizer is having a winter sale with up to 70% off all select shoes and boots. A coupon code is available to take an additional 20% off sale prices. Shipping is a flat rate of $5.
Click here to shop all sale shoes @ Naturalizer now
Coupon Code: 20SALE15
Discount: 20% off
Expiry: 1st February 2015
Earlier this month, Brooke mentioned a great sale at Naturalizer where you can save up to 70% off all sale shoes. Things just got a little sweeter as Naturalizer has now released four coupon codes that give 20% off sale prices. The coupon codes do not stack, but having four choices ensure that you get that extra 20% off without a hitch.
I found these cute moccasin style shoe in the sale section. Check out the Naturalizer Kingly which was $110 but is now $31.99.  I prefer the grey suede style but it also comes in black leather, brown leather and navy suede.  I used to work a lot on my feet when I had an office job. Comfortable flats were necessary on days that I knew I was going to be up a lot on the job. I like this grey suede because I feel it could also pair with jeans on the weekend. I could see these shoes being cute with a blazer and jeans for that casual yet still somewhat professional look or even for going out to brunch on the weekends.
One of the biggest price drops I saw when browsing was the Naturalizer Quaint. These shoes were $120 but are now $23.99. This shoe is a brown wedge with a black leather snakeskin edging and bow. These shoes are not my style but I could see someone wearing them to the office and the snakeskin is a nice detail. This shoe also comes in an all-black variety and is available in a variety of sizes. The price goes up to $39.99 after the coupon code for the all black version. I would probably pick up the black shoes for my wardrobe. I can never seem to have enough pairs of black shoes.
I would also consider the Naturalizer Susy shoes.  These shoes were $100 but now are $31.99. This shoe comes in brown with a short heel and a cute little chain detail on the toe. It also comes in black but the price will go from $100 to $39.99 for the black version. The heel is a thicker heel making this another great office shoe if you spend a lot of time on your feet. Naturalizer is known for supportive shoes.  If you normally have trouble wearing heels this shoe might be a nice compromise. The 5.1 cm heel gives you a little lift without being too hard on your toes.
Naturalizer has a flat rate of only $5 so it will not spoil this great deal. This inexpensive shipping will ensure you are still getting a great deal no matter if you grab one pair of shoes or all the shoes. If you grab all the shoes, give me a call so we can share.
Bargainmoosers, what is your favourite type of shoes for the office?
(Expiry: 1st February 2015)