50% off Sandals for the Whole Family @ Globo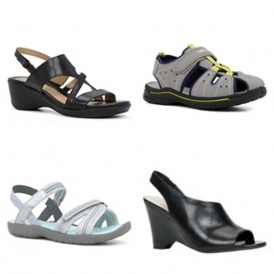 The calendar may say September but it's supposed to be 37 degrees with the humidity where I am in Ontario today so we're still wearing sandals. What a perfect time for an end-of-season clear out--when you can still wear them!--and Globo has 50% off all of their sandals right now. Of course, you can always put a pair (or two) away for next year, as well! No promo code is needed; all prices are marked.
Sandals for the kiddos start at $12.49 for this cute Miralewien style for the girls. For just a couple of dollars more, get these Gwenallan gladiator sandals. They're down to $14.99. Girls' sport styles start at $20 for these Aonnas and brand names like Nike and Kamik are just $22.50.
Sporty styles for the little guys, like these BBX Mirellans are as low as $17.50. There are even Crocs for that price! Kamik styles are $22.50 for the boys, as well. The always comfy Geox are available for $30.
Flip Flops for women start at just $7.50 and Gladiator Styles at $17.50. These cute T-Strap Keds are also just $17.50. Chic heels are as low as $20 and Birkenstock look-alikes by K Studio are the same price. There is a huge selection for women (including pairs by Clarks, Naturalizer and Geox) so be sure to take a browse--I know you'll find something!

Globo ships orders of $50 or more--or any order to their stores for pick up--free of charge. Delivery for orders below that mark is just $5.
If you like this, you may like these...