25% off Women's Regular Priced Sandals with Code @ Globo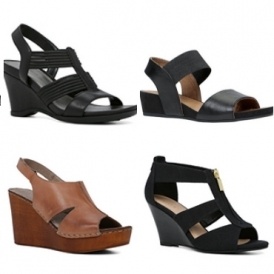 Summer is not quite over and, given the weather we've had, we may just be wearing our shorts and sandals into October. If you've been looking to score a new pair of sandals to finish out the summer in style, or to tuck away for next year, check out Globo now as they're offering 25% off their regular priced women's sandals! Simply enter the code REG25 at checkout.
Add a bit of sparkle to your summer glow with these Salmour Gladiator flats. The silver is perfect for showing off tanned legs and feet and there are a ton of sizes still remaining. They're regularly $34.99 but with the promo code, they're $26.24.
For Birkenstock style without the brand name price tag, check out these Theng slides. Usually $39.99, you'll pay just $29.99 with the promo code.
If you want something with a heel, this Driaven style is simple but very pretty; with a chic ankle strap. They're also $29.99 after the code is applied. For some real height, these Purtill caged sandals are sexy, stylish and, with a conical heel, probably still quite comfortable! They'll be just $37.49. This Qilasen is along the same lines, but with a wedge, and the same price.
I absolutely love these K Studio Dorman sandals; I love that there's a bit more foot coverage. They've got a slight wedge for a bit of height and sort of a sporty cut with a not-so-sporty look and material. The black and gold pair is usually $44.99 but drops to $33.74 with the discount.
There are even some Crocs included! The Mastrati slide comes in navy and black and, regularly $46.99, they'll be just $35.24.
Globo ships orders of $50 or more--and any order to one of their stores for pick-up--for free. Otherwise, it's just $5 for delivery.
If you like this, you may like these...