McDonald's Canada: Get a Small Hot McCafe Specialty Beverage for Free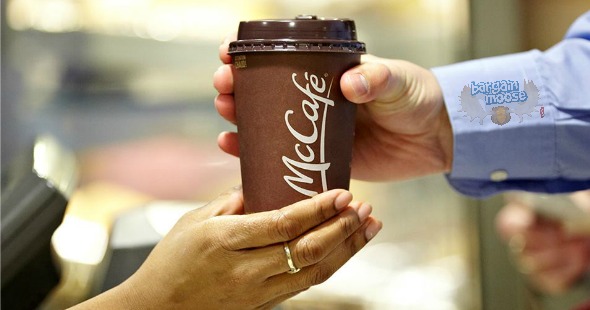 Wake up and smell the coffee - or another hot beverage. McDonald's Canada has just launched a new print coupon to get any small hot McCafe Specialty Beverage for free. This coupon is valid for redemption at your local McDonald's McCafe, just print and enjoy.
When you think of the term "Specialty Beverage", what comes to mind? I can tell you that this coupon can be used towards a Hot Latte, Mocha, Cappuccino, Single Shot Espresso, Americano or a Deluxe Hot Chocolate. If you want to add any of your favourite flavour shots, unfortunately those will cost extra. I adore the McDonald's Deluxe Hot Chocolate - although it lacks the caffeine that the other beverages have. This is a great coupon to redeem on your way to or from work, as a treat to yourself. Your small hot specialty beverage will be completely free, with no purchase required.
Now the fine print of this coupon says you are limited to one coupon per person, per visit. So you can only snag one freebie each time you go to McDonald's. If you are hoping to share the delicious beverage freebie with a friend, perhaps they should tag along and use a coupon themselves as well. You can, however, print as many of these coupons as you like. You can use one coupon per day until the 31st of July (when the coupons expire) if you so wish. Just keep in mind that the product availability may vary from location to location. Sometimes when I ask for a Deluxe Hot Chocolate, certain McDonald's location don't have that specialty beverage but they will have others available, so pick your poison.
No pun intended, this is a hot freebie Moosers. I wouldn't wait too long to take advantage of printing the coupon. This coupon can be redeemed at McDonald's locations in British Columbia, Alberta, Saskatchewan, Manitoba, Yukon and the Northwest Territories. Usually the coupon for Ontario and other provinces follows shortly, so if it comes up I will add it to this post.
(Expiry: 31st July 2015)