Mary Brown's Canada: Big Mary Sandwich Just $3 on Mondays!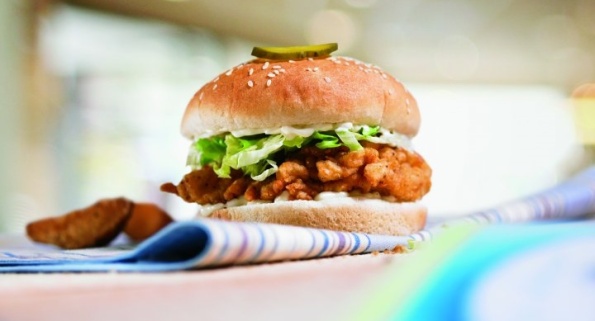 Guess what promotion is back, Moosers? That's right! Big Mary Mondays is back and you're going to love it. Each and every Monday you can head on over to your local Mary Brown's Restaurant and score a Big Mary sandwich for just $2.99 - and yes, the pickle comes on top!
The Big Mary Mondays promotion is valid all day, every Monday. So today you should head over to your closest Mary Brown's location for lunch or dinner and enjoy the most affordable take-out sandwich of this quality - ever. If you want to avoid cooking for just yourself while the kids are at school, then this is a great alternative. Who said Mondays are bad anyway?Seriously. I even order the Big Mary Sandwich when it is not on sale, it is my favourite item from their menu by far.
Mary Brown's is known for their chicken and "taters", so let them show you why. For just $2.99 you can enjoy a delicious chicken sandwich with mayo, lettuce and a pickle on top. Their chicken is always breaded perfectly with a wonderful blend of spices. I am starting to drool and it isn't even noon yet! You should see me when they offer this sandwich for free. They do it about once a year, and I missed it back in September. I won't miss it again, and you won't either.
I am not saying that this is healthier than making your own chicken sandwich by any means, but it is a great option if you are running somewhere and need to grab a bite to eat. I don't have any complaints about Mary Brown's and this is definitely something I will treat myself to one of these Mondays. Maybe not every Monday though.
This offer is available at any and all Mary Brown's locations across Canada, which is always great. There is nothing worse than getting excited for a lunch deal and then finding out you can't have it.
Moosers, have you tried the Big Mary Sandwich?
(Expiry: Unknown)