Get $15 Off $45 Or Free Dessert When You Spend $30 @ East Side Marios Canada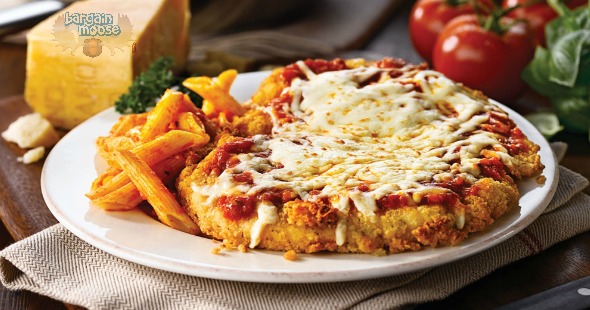 Dining out this week? Head into your local East Side Mario's Restaurant with your friends or family members to reap the benefits of their new coupons. For just a short time, you can take $15 off when you spend $45 OR get a free dessert when you spend $30. All you have to do is present the coupons below to get these East Side Mario's offers. Both of these coupons expire on the 26th of April.
East Side Mario's is a fantastic restaurant. For the most part, they keep the entire family happy. I think anyone between the ages of 5 and 99 can decide on a meal here. From chicken fingers to delicious pasta dishes, I am always up for dinner plans at East Side Mario's. The only down side to these coupons is that they can only be used between Sunday and Thursday. But realistically, restaurants can be much too busy for my liking on the weekend anyway. Your wait for food might not be so long between Sunday and Thursday.
It can be pretty easy to get your total to $45 at East Side Mario's, so you won't have to put all that much effort into redeeming this coupon. Many of their appetizers and entrees appeal to my picky taste buds, although everyone has their own opinion. If you are a fan of pasta dishes or Italian cuisine, then dig in. The Spaghettini & Meatballs has to be their most popular dish at just $12.99. You can expect this pasta to be served in their delicious Napolitana sauce with their famous meatballs and Parmesan cheese. If you want to build a specific dish, build your own pasta for just $12.99 if you prefer.
Kids are always welcome at East Side Mario's. My two year old is always greeted with a balloon and colouring pages. My son can be quite the picky eater, but the Mini Mario Meals never let us down. They have all of the favourites among kids like chicken fingers, grilled cheese, pizza and more starting from just $5.
Now when it comes to dessert, I find that East Side Mario's has limited options. While their Budda Bingers were delightful, the last two times I have been to East Side Mario's they told me they did not have any available. That leaves just two other dessert options: the Mario's Super Sundae and the Mini Black and White Chocolate Mousse Cake.
You can use this coupon as many times as you like when you dine at East Side Mario's, but you will be limited to only one coupon per table per visit. You are also limited to dine-in purchases only and taxes are not included in the minimum threshold. Don't forget to print your coupon, Moosers! You can get even more East Side Mario's Canada coupons in our Bargainmoose forum.
(Expiry: 26th April 2015)