Deluxe Delivery Dinner For Two - Just $26 With Coupon @ Swiss Chalet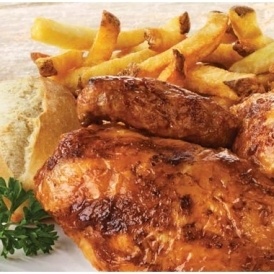 When you think of Swiss Chalet, what is the first thing that comes to your mind? Their most popular dish has to be their Quarter Chicken Dinner. Swiss Chalet Canada has a coupon to get their Deluxe Delivery Dinner for 2 for just $25.59, which includes 2 Quarter Chicken Dinners, 2 appetizers and 2 cans of pop. You will need to click "entrees" and then the "Deluxe Delivery For Two" option. Once you go to confirm your order, enter the coupon code SC162 to get this discount.
What is your idea of a perfect date night? Me, I would personally enjoy a candle lit dinner at home with a good movie and some snacks. Maybe a bubble bath after. Rather than cooking the meal, why not order in? Right now Swiss Chalet Canada has an excellent offer on their Delivery Dinner for 2. Use their new coupon to get the Delivery Dinner for 2 for just $25.59 - which is over $13 off the regular price. The Deluxe Delivery Dinner for 2 includes:
two quarter chicken dinners
white or multi grain roll
signature Chalet Dipping Sauce
two appetizers
2 cans of pop
When it comes to your quarter chicken dinners, there are a variety of sides to choose from. I always get the fries but if you are trying to be a little healthier, you can always opt for the veggies or salad. The appetizers must not exceed the value if $6.99 each. Don't forget that white meat will cost you an additional $1.75 per entree, I prefer dark meat anyway. Please keep in mind you are limited to one coupon per order.
Normally the Deluxe Delivery Dinner For Two is $39.74 - so you are getting $14.15 off (almost 40% off)... that's quite a deal!
(Expiry: Unknown)