Thyme Maternity Canada: BOGO 40% Off Everything (Incl. Sale Items)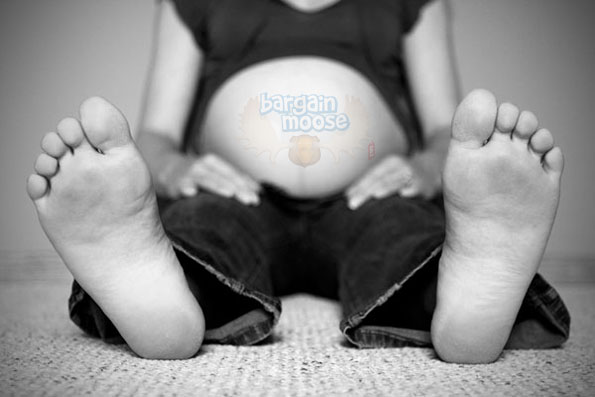 Got a baby on the way? Then you're going to want to shop at Thyme Maternity this week-end as they are having a "buy one, get one 40% off" deal on all of their merchandise.
Although Thyme Maternity's promotion extends to its entire online merchandise, I'm most interested in the fact that it also works on sale items as that means even more savings! As usual, the 40% discount will only be applied to the cheapest item out of the two.
If I was still pregnant, I would definitely get the maternity top with body tie as it looks fabulous and could easily be either up-scaled with statement jewellery or downplayed for a regular trip to the grocery store! It's on sale for $29.99 and was originally priced at $45. The fabric is stretchy, which is definitely a major advantage as you don't want anything making you uncomfortable and you could easily wear this top as your belly gets bigger. I also really like that the neckline is a flattering one. I have come across way too many unflattering looking tops during my pregnancy, so much so that I eventually gave up on shopping and resorted to wearing what I already had! This top also has a side tie, which you can use to either tie a lovely bow or knot, depending on your style. It's only available in a lavender fog style but that is actually the one that I think looks the best anyways!
If you don't mind drawing even more attention to your belly, then check out the floral graphic maternity sweater. At the time of my ever-growing belly days, I bought a sweater with a roaring lion located smack-dab on the stomach-area and let's just say that I definitely got plenty of curious looks, but that only made it more fun! The one at Thyme Maternity comes in a floral print with the words: "enjoy the little things" printed on the front in big font. It's on sale for $29.99 (reg. $49).
Comfy pants are also a must-have during pregnancy and the knit crepe maternity trouser definitely look like they could quickly become any go-to kind of pant. They're on sale for just $39.99 (reg. $59) and although they're also available in black, I much prefer the white version, which has more of a black and white print design to them.
Those are just my picks but there is also a multi maternity bra on sale for just $6.99 (reg. $49), v-neck maternity t-shirts for $9.99 (reg. $24), and a couple of other cheap picks.
Shipping is free on orders over $100.
(Image Credit: Erin_Ryan)
(Expiry: 28th September 2014)