Thyme Maternity: 80% Off PLUS an Extra 50% Off PLUS $20 Off $50 With Coupon!! **HOT!!**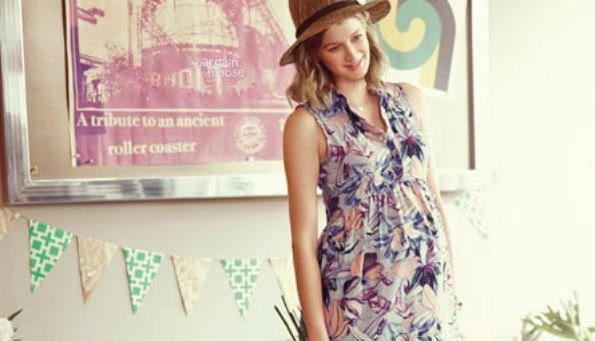 If you are preggers or planning to be, you don't want to miss these hot deals at Thyme Maternity. I found a hot coupon that will give you $20 off any order of $50 or more. When I checked it out, it works on sale items and I found that there were items as low as $9.99 that were a whopping 80% off already! But, it gets even better. Those items are discounted another 50% off after the 80% discount! You can get your entire maternity wardrobe for less than $100!
Click here to shop @ Thymematernity.com now
Coupon Code: THYME20
Discount: $20 off $50
Expiry: Unknown
If you go to the sale section, you'll see many items that say 50% off, but if you calculate the actual discount, it works out to be 80%. I think I like the second number a lot better.When I was pregnant, I shopped mostly at Thyme Maternity. They had everything I needed from swimwear, casual wear to dressy, plus all my underthings and sleepwear.
If you plan to swim during your pregnancy or are getting away this winter, a swimdress might be on your list of must-needs. This beautiful blue swimdress is available in sizes from small to extra large. It regularly sells for $75 and is discounted all the way down to $14.99, which is fantastic!
If you aren't so lucky to be going swimming, but instead have to go to work, these skinny pinstripe maternity pants will pair with anything. Lots of sizing is available and these are regularly $69, discounted right down to $14.99. That is the petite and these are the regular.
I can't believe how much I love this sleeveless gingham printed maternity dress in sweet peach. I want to get pregnant just so I can rock my belly in this cute dress. It also makes me want to bake a pie for some reason. From $69, it is discounted all the way down to $14.99.
One of the best deals I found is on this long sleeve striped maternity blouse, which is regularly $49, on sale for $9.99 and then discounted down to $4.99! While I at first wasn't a huge fan of this top, it does look good with jeans and looks like a top you can wear throughout your pregnancy and even after. Plus it is just $5!
When I was pregnant, I was always hot. Forget those turtleneck knit sweaters this winter and favour some tiny shorts for walking around the house! These soft printed maternity shorts are super cute. Regularly $29.99, they are discounted down to $4.99.
All of these items at regular price might cost you a small bundle, but once you've added all discounts, including the coupon, your total comes to just $34.95. Isn't that crazy!!!
Shipping is free when you spend $99, which means you could seriously get everything for your entire pregnancy while scoring free shipping. Even if you had to pay shipping of $7.50, you've saved so much that it won't really hurt much.